---
"QUEZON CITY"
---
Foods
Reward yourself after a long day of sightseeing at one (or two) of the many restaurants along Maginhawa Street.
The stretch is littered with restaurants offering exciting dishes from every end of the flavor spectrum. A top pick is The Sweet Spot, a café run by a husband and wife team that marry their love of good food and design.
HITS THE SPOT. The spicy Kung Pao Pasta is one of the best sellers at the Sweet Spot.
It offers an eclectic mix of Filipino, Southwestern, and Oriental dishes, good for big groups who can't seem to agree on what to eat for lunch or dinner. For those craving for Filipino fare, try Marciana's famous pancit palabok and putong pandan, or the pink salmon head ulo-ulo or bulalo of Jek's Kubo.
PARTY TIME. Marciana's pancit palabok is the restaurant's specialty.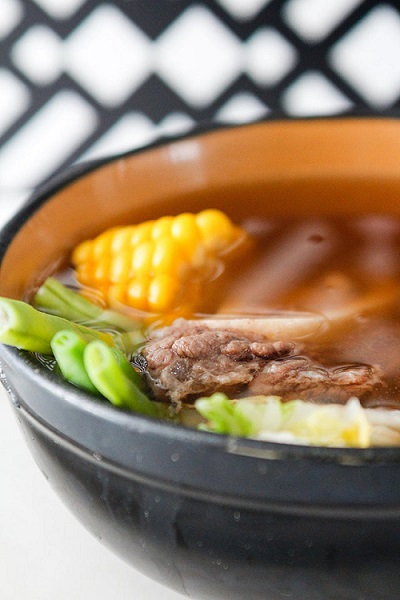 COMFORT FOOD. Tuck into a heaping bowl of Jek's Kubo famous bulalo.
Serious foodies should head to the Maginhawa area on Saturday, October 11 for the first ever Quezon City Food Festival. The whole street will be blocked off to traffic to make way for a massive street party that will last the whole day. As a special treat for the event, participating restaurants will be serving special dishes priced at 150 pesos, so you can really try all of what Maginhawa has to offer, or at least as much as your stomach will let you.
Products and Services
Quezon City is home to the Philippines' major broadcasting networks. Television companies such as TV5, ABS-CBN, GMA Network, INC TV, UNTV, Net 25, PTV, RPN, and IBC all have their headquarters in Quezon City.
History
Before Quezon City was created, it was composed of small individual towns. Then in the early 20th century, President Manuel L. Quezon dreamed of a city that would replace Manila as the country's capital city. It was believed that he got this idea when he went to Mexico earlier. In year 1938, President Manuel L. Quezon decided to create a new city that will replace Manila as the capital city of the Philippines. That was due to the fact that Manila was getting crowded and was an easy target for bombardment by naval guns because it was near by the bay. Without thinking that there is still possibility of bombardment from the air, still Quezon continued the idea of a totally new city at least 15 km away from Manila Bay, beyond the reach of naval guns. Quezon contacted William E. Parsons, an American architect and planner, and helped on selecting the Diliman (Tuason) estate as the site for the new city. Within that year Parsons died. His partner Harry Frost took over the assignment. Then the collaborated effort began constructing plans for the next capital of the Philippines, Quezon City. The plan was then approved by the Philippine authorities.
Tourist Spots
Ninoy Aquino Parks and Wildlife – this is an 80-hectare zoological and botanical garden housing different species of trees and animals including snakes, deer, crocodiles, peacocks and a monkey-eating eagle. There is also a park that maintains the rescued certain wildlife animals that have been abandoned, confiscated or donated.
UP Vargas Museum and Filipiniana Research Center – displayed inside the museum are the artworks of the famous Filipino painters like Juan Luna, Felix Resurrection Hidalgo, Lorenzo Guerrero and Fernando Amorsolo, as well as sculptors like Guillermo Tolentino and Graciano Nepomuceno. There are also a collection of artifacts dated between 1880s and 1960s. Its library contains more that 3,000 books, more that 1,000 volumes of periodicals and other important documents about the Philippines.
Geography
Quezon City is situated on the northeast portion of Metro Manila. It is bounded on the north by Caloocan City and San Jose del Monte City in Bulacan Province, on the east by San Mateo and Marikina, on the south by Pasig and Mandaluyong, San Juan and Manila, and on the west by Valenzuela, Caloocan and Manila. Its northeastern and eastern boundaries are defined by the Novaliches Watershed and the Marikina River. With an area of 16,112.58 hectares (based on 1995 GIS graphical plot), it is the largest among the sixteen (16) cities and one (1) municipality in the re-gion and is almost one-fourth the size of Metro Manila.
Demographics
The majority of inhabitants in Quezon City are Roman Catholic. About 90% of residents follow this religion. There are also other religions practiced throughout the city, including but not limited to Protestant and Islamic faiths. Almost one-quarter of Metro Manila's population lives within Quezon City. The city is very culturally diverse. The national language is Filipino, but many people throughout Quezon City speak English, particularly those in the trade, government, education and media industries.
---
©2019 Acuin/Anonuevo/Badillo
---